With the official first day of summer already passed, sunnier days are surely on the cards, and you might be considering, what are the best sunglasses for golf?
You can't get a better accessory when the rays are beaming down. Having a pair of shades that filter out the bright light can make all the difference to your game.
You might be thinking, "Why can't I just wear my normal sunglasses?"—it's a good question. Golf sunglasses have come a long way. Unlike your regular ones, they are designed to decrease the distortion of your view in the lower part of the lenses.
This new lens technology also offers better UV sun protection, allowing you to see the full ins and outs of the fairways and greens. As well as better frame designs to ensure your shades stay firmly on your head during your powerful swings.
Of course, practicality is all well and good, but if you're trying to figure out the best sunglasses for golf, you might be conscious of style. You'll be pleased to know that you can create a huge variety of different looks with golf sunglasses, from different coloured frames to cool colour shifting lenses—who doesn't want to look good when they're out on the course?
However, navigating the market and choosing which pair of sunglasses would suit you best can be tricky—from polarized to unpolarized and different UV groups, how do you find what's best to suit you?
We've narrowed down our top five sunglasses for golf, covering a range of budgets, brands, styles and designs.
But, before you dive in, to help you with your search, we've listed each pair of sunglasses' UV filter rating. The UV filter rating showcases the sunglasses' ability to filter out the UV sunlight rays. Category 2 is the most common for regular sunglasses.
Here's a small guide of the protection percentages against the score to aid you in your decision:
Score of 0-3 ensures 20% protection
Score of 1 ensures 21-57% protection
Score of 2 ensures 58-82% protection
Score of 3 ensures 83-92% protection
Score of 4 ensures 92-97% protection
Now on to the best golf sunglasses…
Contents table
1. Oakley Flak 2.0 XL Sunglasses
2. Torege Polarized Sports Sunglasses
3. Tifosi Unisex Intense Single Lens Sunglasses
4. Maui Jim HO'OKIPA READER Polarized Rimless Sunglasses
5. Callaway Sungear Kite Sunglasses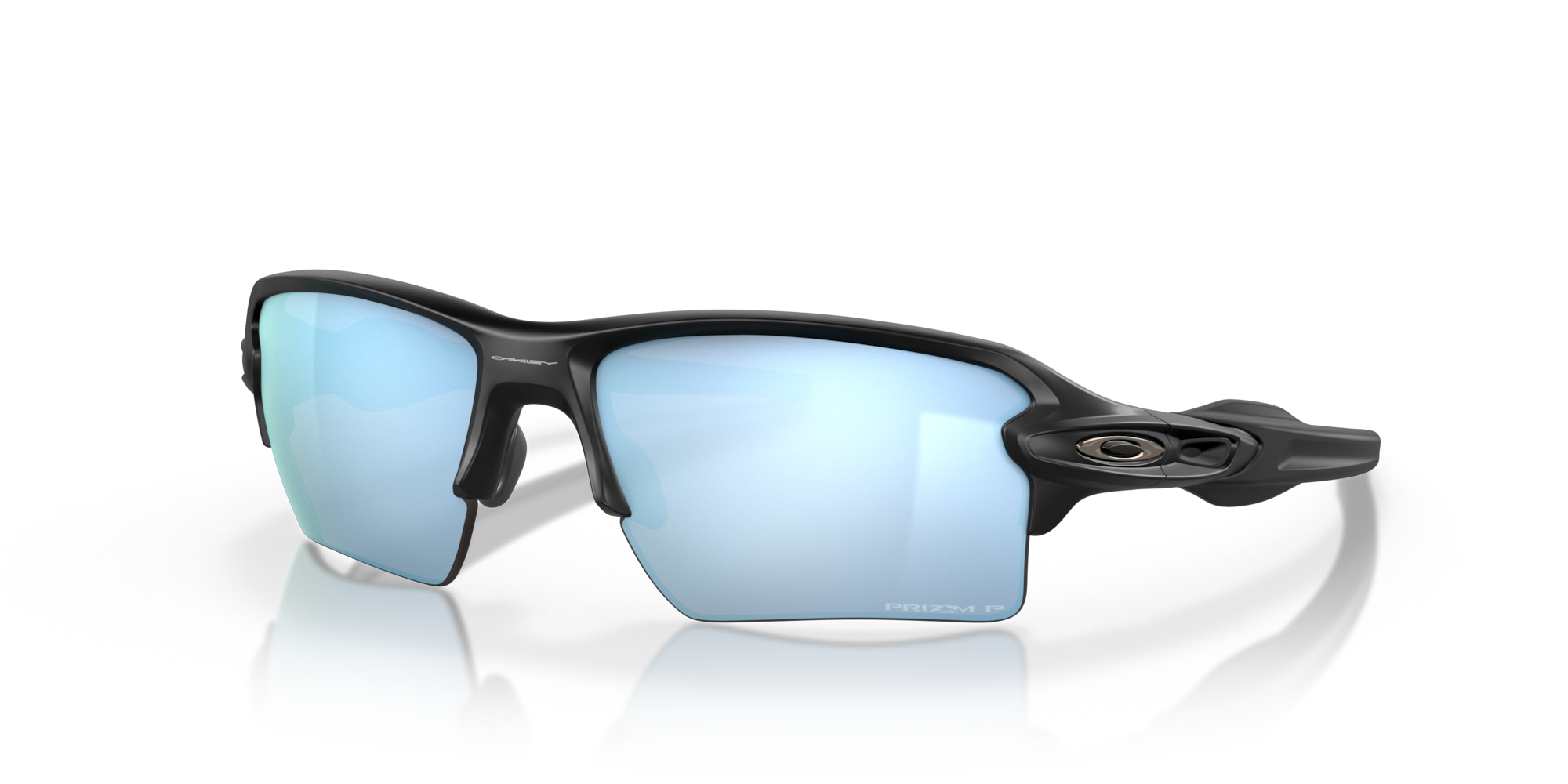 UV Filter Category: 3
We'd be highly surprised if you haven't heard of the Oakley Flak 2.0 sunglasses.
Known as a great all-rounder when you're looking for the best sunglasses for golf, they come highly rated by the opticians of SportRx—opticians who have a passion for sporting eyewear—and we can't blame them.
Available in five different colour combinations, these sunglasses ooze nothing but style.
If that wasn't enough, the Oakley Prizm Lens technology allows for dual colour shifting lenses, which are interchangeable with the frame so that you can switch them up on and off the course.
Created purely with comfort in mind, the frame is lightweight and durable, providing ultimate comfort throughout the day.
Oakley has also added Unobtainium grips to the ear stems and nose pads. The Unobtainium grips ensure extra comfort and a secure fit. Still, the material means the more you sweat, the better they grip—this is particularly great if you're going to be wearing them for a considerable period in the sunshine.
They may be a little more on the pricey end, but these are one of the best golf sunglasses for full clear vision. With high-definition optics, you can get the perfect shot every time.
If you're concerned about more up-close vision, the semi-rimless design means you have a greater downward field of vision—zero distractions when making that all-important final putt.
The only con we can identify with the Oakley Flak 2.0 sunglasses is that they have non-polarized lenses—meaning the image will lack the same crispness. However, we feel like this isn't a deal-breaker with all the benefits weighed up.
UV Filter Category: 3
Whether you're looking for a backup pair of golfing sunnies or purchasing your first ones, don't let the price point of the Torege polarized sunglasses fool you.
You might be worried the materials wouldn't be on par with other more expensive sunglass models, but that's where you'd be wrong. The lenses are coated with two shatterproof layers and made to be scratch resistant.
A force to be reckoned with on the course, the polycarbonate frame sits comfortably on your face shape and bends with every swing without feeling like it will break. If you purchase them from Amazon, they offer a lifetime breakage warranty on the frame, so where can you go wrong?
Created with a UV400 protection coating, these sunglasses protect your eyes from UVA and UVB rays and ensure you can see in true colour without tricks or enhancements.
Offering a range of different interchangeable lenses and colours, including rainbow, the Torege polarized sunglasses are a versatile and stylish pair of shades that won't break the bank!
UV Filter Category: 2
Comfort on a sunny day is exactly what the Tifosi Intense sunglasses aim to provide.
With a Grilamid TR-90 nylon frame, they are not only lightweight—at only 25g a pair—but also have hydrophilic rubber temples for ultimate comfort.
The vented lenses are perfect for warmer days, ensuring you won't fog up under the summer sunshine.
The non-polarized lenses won't provide the reduced glare many desire, but they may be of interest in looking for a closer view to what you'd see with the naked eye—as some find it easier to judge distances and lines.
The Tifosi intense don't compromise style with their sleek and minimal design, made to be durable and last.
On the official Tifosi website, these glasses retail at £34.99, but they can be found even cheaper on Amazon at £29.69—what a bargain!

UV Filter Category: 3
No-fuss is the name of the game when it comes to the Ho'okiopa Reader sunglasses from Maui Jim.
Their ultra-sleek design makes them easy to wear and very comfortable. Despite being extremely lightweight and fragile-looking, these glasses are robust and won't get in the way of your play.
The secure design means they'll stay firmly on your person no matter how hard your swing.
This company has deep roots in the sunshine with Hawaiian heritage and ensures its glasses are prepared for bright sunlight. They aim to provide an equal balance of protection with clarity to ensure the glasses only help to improve rather than inhibit your game.
The super-thin MauiPure lenses help with the weightless feeling and add a chic element of style to this pair of golf sunglasses.
UV Filter Category: 3
When considering the best sunglasses for golf, we're sure the Callaway brand must have crossed your mind.
Known for its speciality and high-quality golf gear, the Callaway Sungear Kite sunglasses are no exception.
With a wrap-around design, these sunglasses are intended for optimum sun protection, with an eight-base lens configuration to block out harmful light but still allow for improved depth perception.
Designed with golf in mind, the Sungear Kite lenses feature P2X polarised lens technology to block UVA, UVB and UVC rays.
Lightweight frames ensure comfort over long periods of wear—with Callaway noting they're twice as light as an average pair of sunglasses—they also include adjustable pads to make them extra comfy.
These sunglasses come with accessories, such as a carrying pouch and hard case. However, they don't have much variety in terms of colourways. But if you're looking for a classic style, the grey-green and brown colouring might be up your street.
Specialist golf insurance from Golf Care
There would be nothing worse than investing in a new pair of golf sunglasses only to have something happen to your equipment, meaning you can't show them off on the course.
At Golf Care, our golf insurance includes equipment cover up to £7,500, meaning you don't have to worry and can rock your shades with peace of mind. We also offer Public Liability up to £10m and much more.
Underpinned by our very own 'Ripe Guarantee', you're promised great cover and exceptional service at a price you can afford.
Click below to learn more about our cover and how we can help you.